Some wonderful prizes were up for grabs in the 2022 Graffham Christmas Fair Grand Raffle – thanks to the generosity of the many donors from across the village. All proceeds go to our historic, beautiful and peaceful St Giles Church and everything it does for the village, so please support generously.
Scroll down below for who won what.
Prizes up for grabs in the 2022 Graffham Christmas Fair grand raffle
A fab festive hamper – Churchward.
Another amazing hamper – Brown.
Six Wine Society bottles – Abbott.
Clarins 12 days of Christmas – Richardson.
Three bottles of Prosecco rose – Britton.
Famous Grouse whisky – Wakeford.
Two bottles of red wine – Smithers.
More lovely wine – Pescott.
A couple more bottles – Jenkins.
A six-bottle box of Aspall Dry Premier Cru Cyder – Blunt.
A delicious Christmas cake – Kirke.
Luxury candles – Jones.
A clematis plant – Rowntree.
Another clematis plant – Aparicio.
Golf umbrella – Rowntree.
Another golf umbrella – Daniels.
Christmas crackers – Wilson.
Note: The images above are to illustrate prizes in the 2022 raffle . While most of the photos in the above slideshow are of the actual prizes, a few are stock images to portray likenesses.
How to enter the raffle
Four books, each of five tickets (costing £1 a ticket), have been delivered to each household in the village with the December edition of Graffham Parish News. Don't feel you have to buy them, but it would be wonderful if you do.
If you want more, they are available from Graffham Village Shop – and at the Christmas Fair in the Empire Hall on Saturday 3 December 2022, starting at 11 am and before the raffle is drawn, at around 1.30 pm. Please return any unwanted tickets via the village shop – or recycle them.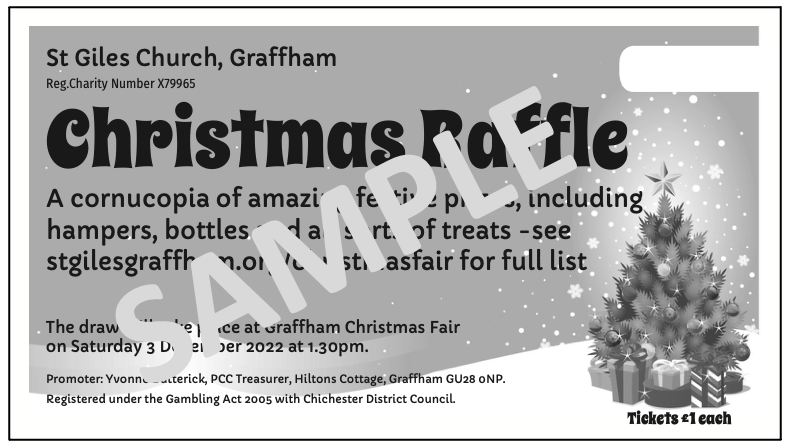 To enter, please fill in each ticket stub with your surname, phone number and, ideally, your email address.  Then:
Hand in your stubs and payment (by cash or card) at the Graffham Christmas Fair on Saturday 3 December 2022 before 1.15 pm.
OR you can submit your stubs and payment before Saturday 3 December 2022 at Graffham Village Shop. You can pay by:

Cash, in which case insert the tickets and cash in a sealed envelope.
Card, in which case just hand in the stubs and note on them how you have paid, either

Online at www.stgilesgraffham.org/giving-online. Do NOT mark your payment for Gift Aid as it is not eligible in this case.
Or at the raffle table outside the village shop between 10 am and 12 noon on Saturday 26 November.
Once your payment has been verified, your tickets will be entered in the draw, which will be made on Saturday 3 December at about 1.30 pm at the Christmas Fair in the Empire Hall.
Winners will be notified and displayed on this page.
For any queries, email graffhamchristmasfair@gmail.com
Good luck – and thanks again to all the kind donors of prizes!
Don't miss out on the auction, home produce and craft stalls!
Don't forget that there are also lots of amazing treats and goodies to be snapped up in the Graffham 2022 Christmas Fair Auction and at the fair itself. Click on the links below to find out more.