A history of Graffham including St Giles Church can be found in Frederick Barrett's 1950 book, Graffham through a Thousand Years, reprinted in a Millennium Edition in 2000. Graffham Archive holds copies of this book.   If you would like one in exchange for a donation, please contact hello@stgilesgraffham.org  Alternatively it can be downloaded HERE
http://stgilesgraffham.org/wp-content/uploads/2018/11/millenium_history.pdf
Much of the following information is taken from this booklet.
Further information since 1950 can be found in Graffham: Memories, Articles, Photos (2015) ed. Mary Butterworth and Diana White, obtainable through the internet.
Through a Thousand Years
According to Barrett, pagan Sussex was the last area in Britain to become Christian, converted by St Wilfrid who settled in Selsey in 681CE. Barrett speculates that it was probably not until the end of the C8th that Graffham gave up the worship of Woden and Thor and started worshipping Christ under a simple cross on an erstwhile pagan site. Although we have a Saxon font, unlike St James Church in Selham we have no remnants of a Saxon stone building from this period, and there are no written records of Graffham of its church prior to the Norman Conquest.
Barrett notes that the first written mention of a Church is in the Domesday Book (1086-88), alongside manorial land held by four French noblemen under the Earl of Arundel. Until the C16th, the lordship of Graffham was held under Arundel Castle, then sold outright in 1537 to brothers Giles and Francis Garton who built the original Elizabethan house on the site of Seaford College. Giles became Lord of the Manor and bought the advowsons of both Graffham and Woolavington, which means in English law, that he and his heirs had the right to nominate a person to be parish priest. The manor and patronage of both parishes was passed down the female line for successive generations as no male heirs survived, which means it was owned by their respective husbands.
Two Victorian Churchmen
In 1778 MP John Sargent inherited the estate and patronage of both parishes through his wife. His eldest son, also John took holy orders and took over the livings of Graffham in 1805 and Lavington in 1813. Revd John had seven children, five of whom were daughters. Four of these daughters married clergymen themselves. Their choices reflect very much the schisms in the Church at that time.
Emily, the eldest married Samuel Wilberforce, son of anti-slavery campaigner William Wilberforce. Samuel went on to become a Bishop in the Church of England.
Mary married Samuel's brother Henry William Wilberforce, a clergyman who converted to Roman Catholicism under the influence of John Henry Newman.
Charlotte married her father John's curate, Henry Manning, who also left the Church of England, taking Samuel Wilberforce's brother Robert with him.
Sophia, the youngest daughter, married George, a son of Henry Ryder the evangelical Bishop of Lichfield.
Revd John Sargent's sons died at an early age. Thus the manor came into the hands of Samuel Wilberforce through his marriage to Emily, Sargent's eldest daughter.
Bishop Samuel Wilberforce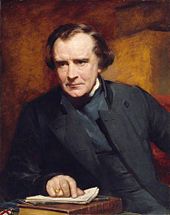 Bishop Wilberforce took a keen interest in his Graffham and Lavington estates and the churches, and although he became Bishop of Oxford in 1845 and Bishop of Winchester in 1869 he visited Graffham regularly. He died in 1873 at the age of 67 after a fall from his horse. Nicknamed 'Soapy Sam', Samuel Wilberforce is unfortunately remembered as much for participating in an unsuccessful public debate against Darwin's theory of evolution as for his long and successful career in the Church.
Three years younger than Wilberforce, Henry Manning succeeded his father-in-law, John Sargent, in the livings of both Graffham and Lavington in 1833, the year he married Charlotte. Manning was Rector for 17 years. During his time as priest he restored both Graffham and Lavington Churches and compiled a detailed record of all his parishioners.
Cardinal Manning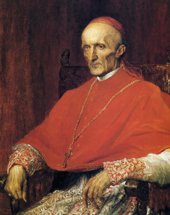 Manning's wife Charlotte died at a young age. Manning himself left the Church of England in 1851. Within 14 years he had joined the Roman Catholic Church, going on to become Archbishop of Westminster and a Cardinal in 1875. His wife Charlotte was never forgotten however and he retained her handwritten book of prayers and meditations until his death. Reputedly his last words were, 'All the good I may have done, all the good I may have been, I owe to her.'
If you are interested in reading further about Henry Manning at Graffham and Lavington, especially this moving story, try to get hold of acopy of Jonathan Luxmoore's article 'Caroline, the lost love of the Cardinal' in the Church Times Issue 8567, 28 March 2008
Two Parishes and a School
1851 is a bit of a milestone as it is the year the parishes of Graffham and Woolavington were joined together. Previously although they may have had the same incumbent, they were separate parishes.
The first priest under this new regime, Richard William Randall, was not popular. He fell out with the Graffham farmers who considered him insufficiently protestant, which among other things at that time meant that he asked them to sing hymns. While not particularly memorable outside the parish or popular within it, Randall did leave a lasting legacy in that in his early days he taught the village children in the Church, with a night school for older boys. From this he went on to establish Graffham School.
Since Randall, the parish of Graffham with Woolavington has had fourteen further priests at Graffham preserving the faith in our community without controversy!
Twenty-first Century: School Chaplains and Sporting Priest
As many parish churches face dwindling congregations, resulting in parishes being merged with limited services in each church, St Giles has been fortunate to retain its own priest.
In 2001, after the retirement of Fr Keith Hyde-Dunn, Fr Mark Gilbert was appointed as joint priest-in-charge of Graffham with Woolavington and Chaplain to Seaford College, and he served nine years in that role. Fr Mark was followed by two further priests undertaking the same role, Fr Mark himself becoming the Rural Dean for the area. This proved a very practical solution for St Giles Church in the first two decades of the twenty-first century.
Revd Steve Gray in red shoes beside Archbishop Justin Welby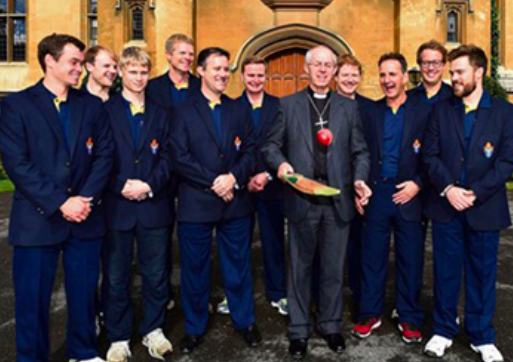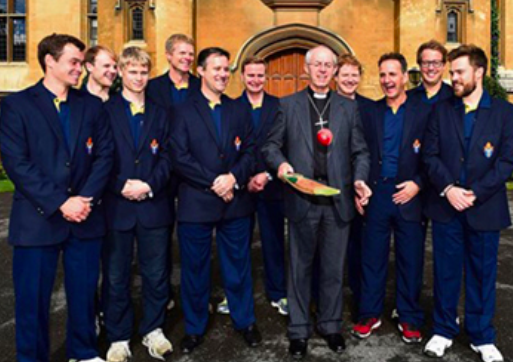 The first of these priests, Revd Steve Gray made his mark on Anglican history in a particular way, captaining the Anglican team in the first ecumenical cricket match against a Roman Catholic side at Canterbury in September 2014. The Anglicans achieving a narrow victory against the Roman Catholic team, they met again in Rome in 2015 which saw the Vatican side claim the honours. In 2016 the two teams took on a third, Muslim team at Edgebaston. In Steve's words, 'The Anglican players share with their patron, the Archbishop of Canterbury, a belief that faith in God unites people rather than divides them. That is why it is such a privilege to host teams from the Vatican and Mount Cricket Club at Edgebaston. We're thrilled they have accepted the invitation – and the challenge.'
After Steve's successor as priest-cum-chaplain, Revd Michael Barter left Graffham in 2017, Seaford College decided to appoint a full time Chaplain and the parish needed to find a way of having its own priest again.
A New Development for the Parish
Revd Vivien Turner, a Self-Supporting Minister was licensed as Priest-in-Charge of the Parish of Graffham with Woolavington in July 2018. The parish providing a Rectory to enable her service in the parish, Revd Vivien is the first female clergy person to minister to the people of the parish as priest.