CHURCH BUILDING
Church Maintenance is the responsibility of the Churchwardens. The building is inspected every five years by an architect on behalf of the Diocese, and separate bell survey undertaken every two years. Most maintenance work is carried out by professional contractors with their own Health and Safety Policy and Insurance. Maintenance permitted by specific volunteers is covered in our Health and Safety document. See Policies: Health and Safety
Please contact the Churchwardens for any queries about church maintenance, details in Who's Who.
CHURCHYARD
Professional contractors mow the churchyard and extension grass. Other maintenance is carried out by the churchyard maintenance officer with volunteers, normally on a monthly basis.  We lack resources to undertake more than basic maintenance of the churchyard, so ask relatives and friends to tend family graves.
Please note glass or plastic jars, artificial flowers and ornaments are not permitted in Church of England churchyards and will be removed regularly.
If you would like to join the churchyard working party, or have any queries please contact the churchyard maintenance officer, details in Who's Who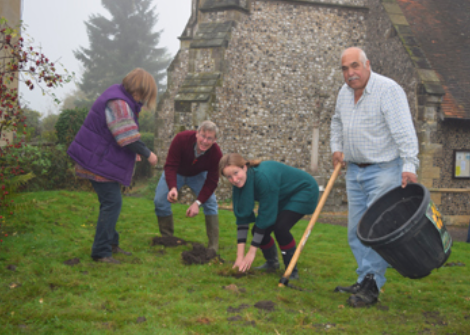 St Giles Churchyard Working Party