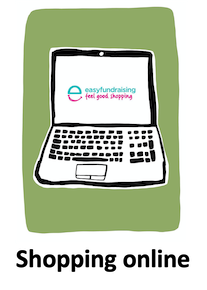 You can help safeguard the future of Graffham's historic St Giles Church whenever you buy virtually anything online – from your weekly shop or one-off purchase to your annual holiday or insurance cover – and all at no additional cost to you.
It works through easyfundraising, the UK's biggest charity fundraising site. It's simple to use, and it's free. Since 2005, good causes and charities across the UK have raised more than £35 million this way.
There are almost 5,000 shops and sites on board ready to make a donation – virtually every retailer or business selling online, including Ocado, Waitrose, Sainsbury and virtually all the big supermarkets, eBay and Amazon, John Lewis, and Argos…
Its 750+ fashion and clothing partners include M&S, Boden, Gap, White Stuff, H&M, Asos, while more than 250 firms in the travel sector participate, such as hotels.com, booking.com, lastminute.com, Expedia, Travelodge, and First Choice. More than a hundred insurance providers are registered too, from confused.com and comparethemarket.com to Aviva, MoreThan and RAC.
Each time you buy from them online via easyfunding, they will make a donation to St Giles – at zero cost to you. The sum they will give will generally be between 0.5 and 10 per cent of your spend with them. Some retailers – including insurance and broadband providers – will pay a flat fee which can be in the hundreds of pounds.
These donations can really mount up and make a BIG difference towards safeguarding the future of the church and parish that have been at the centre of our village life for hundreds of years, at a time when the pandemic and modern day trends have put their finances under such pressure.
It would be so much appreciated if could take a moment to sign up and support us. It's completely FREE and only takes a moment.
All you need to do to raise funds for free whenever you shop online is:

1. Click on this link to go to easyfundraising.org.uk, and register there for free, selecting St Giles, Graffham, as your cause.
2. Every time you shop online, go to easyfundraising.co.uk first and find the retailer you want from there – and then start shopping like normal. Or, if you prefer to go to a retailer's site directly, you can download a digital reminder for your computer to opt in to easyfundraising as you shop.
3. After you've checked out, the retailer will make a donation to St Giles at no extra cost whatsoever to you.
It really is as simple as that! There are no catches or hidden charges and St Giles, Graffham, will be so grateful for the donations you raise.
To find out more about how it works, see this easyfundraising guide.
Please only use easyfundraising for your online shopping – continue to support our incredible Graffham Village Shop for your everyday needs!