Our love and warmest wishes go to all the couples who have married at St Giles.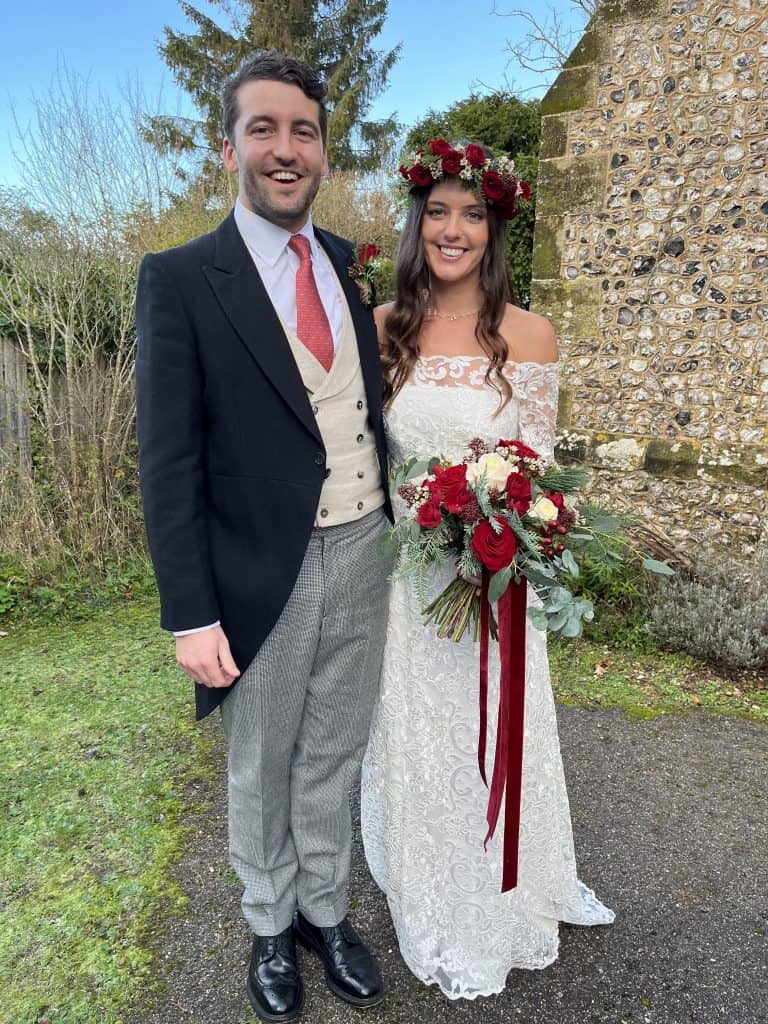 Harriet and Joe, 10 December 2022
A London couple who regard Graffham as "home from home" – Harriet Markwell and Joseph Wootton – were married at St Giles Church by the Revd Vivien on Saturday 10 December.
In keeping with the Advent timing of their wedding, the hymns they chose were mainly carols – Once in Royal David's City, Hark the Herald Angels Sing and O Come All Ye Faithful – and the congregation kept at a cosy dozen of their closest family and friends, supplemented by St Giles' small choir and regulars.
The couple met originally in 2010 when they were neighbours while at university in Newcastle, but only started dating three years ago.  Lawyer Joe proposed in May and then, after the 12-year slow burn,  they decided to move fast.    He  said: "We wanted to get married this year and loved the idea of a winter wedding."  And Graffham quickly became the obvious place for it to happen. Harrie, who works in marketing in the hospitality sector, explained: "We've been coming here frequently for many years, so we've grown very fond of the village.  It's a beautiful escape from London and will always have a special place in our hearts."
Wearing a white dress – off the shoulder, though the frost was cruel – and carrying, to tie in with the winter theme, Burgundy and Champagne coloured roses, she was walked down the aisle on the arm of her father Adam Markwell.  She was attended by her mother Jane Markwell, and by Bell Wilkinson, her best friend as maid of honour, and, as bridesmaids, her brother's fiancée Vilma and Joe's sister Beth, while organist Brian Lanaghan played Pachelbel's Canon. Joe wore a traditional morning suit and was supported by best man Matt Valenzia.  Among the readings was a piece by A A Milne, whose illustrator Ernest Shepherd lived at nearby Lodsworth. 
At the end of the service, the new Mr and Mrs Wootton left St Giles to the sound of Mendelssohn's wedding march and the church's bells and hopped into Harrie's decorated 18-year-old Ford Fiesta to host their receptions at Tagents Barn, which they rent regularly for their Graffham visits.
Lucy and Ed, 24 September 2022
A blind date four years ago that led to a 4,300-mile courtship resulted in the marriage of Ed Agnew to Lucy Lesley at St Giles Church on 24 September. Back in 2018, Scots-born Ed was visiting London from Nairobi, where he was working for a climate technology and clean energy company, when one of his best friends match-made him with Lucy, whose family home is just across the Downs from Graffham, at Strettington, close to Goodwood House.
They recalled: "It was a bit of a long shot, but a lot of initial travel and then time together in Scotland during lockdown made the distance no barrier."
Interior designer Lucy moved to the Kenyan capital to join Ed after that and the rest, as they say, is history. He proposed a year ago – presenting her with a plain silver band he had made for his mother when he was 14.
They chose St Giles for their big day because she wanted to marry in a rural church and the local connections to her family home. Ed explained: "The fact that Graffham is at the foot of the South Downs, one of Lucy's favourite places, made it really appeal. It has been lovely to get to know the Revd Vivien and the local community in the run up to the wedding. Graffham is a wonderful parish, and will now always be particularly special to us."
The bride, dressed in a long white gown which she designed and had made in Putney, was walked up the aisle by her father, Robin, and attended by three of her closest friends and younger sister Sophie, plus three young bridesmaids and two pageboys, in a church packed with some 160 guests. As the service concluded, the newlyweds walked out into autumn sunshine to the sound of The Beatles' Here Comes The Sun and St Giles' bells, then jumped into the old LandRover Defender that had delivered Lucy to the church, and headed to their reception in a marquee at Haylands Farm. They honeymooned for a few days in the South of France before settling down in London – with regular visits promised to Graffham.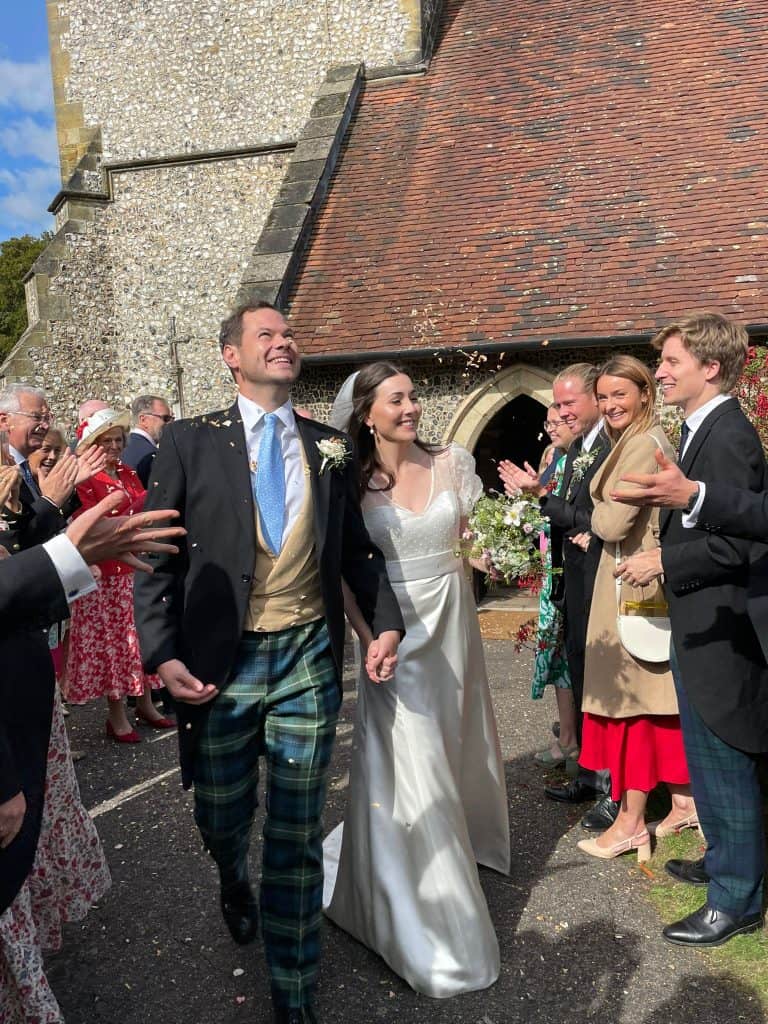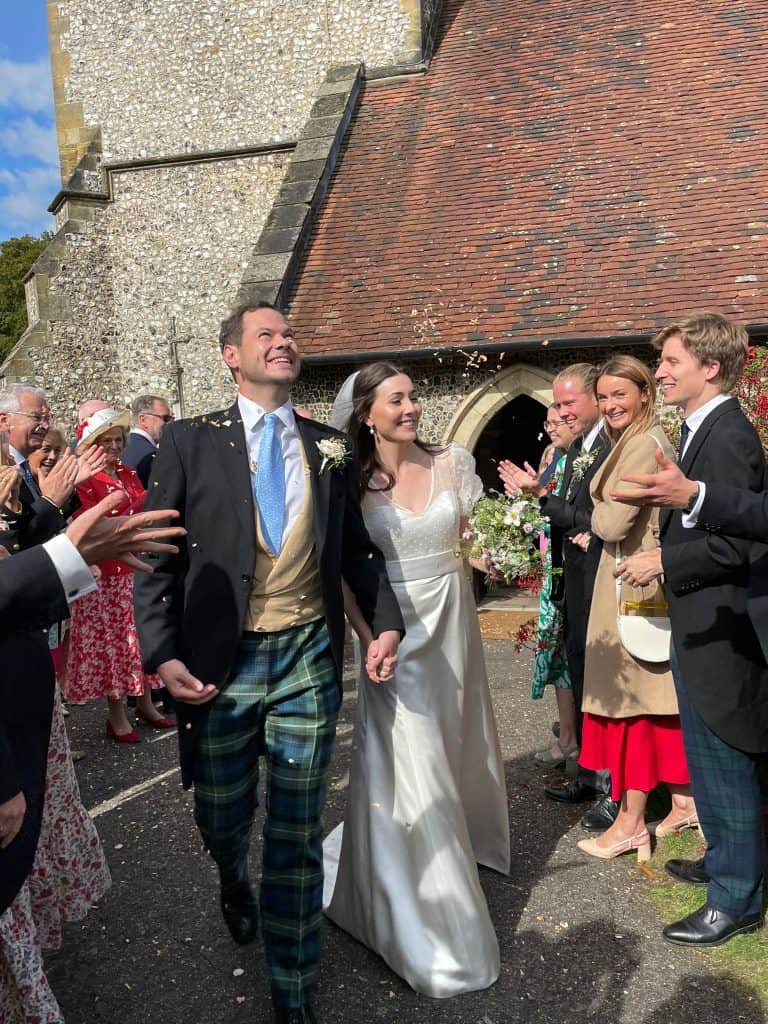 Laura and Hamish, 18 June 2022
The first of two Godman-Dorington weddings planned to take place in Graffham this summer was held on 18 June at St Giles Church – with Hamish, younger son William and Amanda, of Haylands Farm, marrying Laura Marshall, a farmer's lass from Northern Ireland
Besides being a third generation Graffham farmer, Hamish is also a director of the Ghillie, an outdoor clothing business. Laura is giving up her job as an account director and business manager in PR and marketing to begin a new career this month as a real estate recruitment consultant, based in London. They first met six years ago while attending the Royal Agricultural University at Cirencester, where Hamish was a year ahead of Laura. He popped the big question nine months ago during their annual fishing trip to the River Oykel in Scotland.
For their wedding, Laura was dressed in traditional white dress and pearl-trimmed veil and carried an informal summer bouquet of white and blue flowers, including peonies, roses, love-in-the-mist and hydrangeas, as she was walked up the aisle by her father, Ian Marshall, a farmer and politician from County
Armagh. She entered the church, attended by five bridesmaids, in cornflower blue dresses, led by her sister Sarah Marshall, to Jeremiah Clarke's Prince of Denmark's March, played by organist Brian Lanaghan. Hamish, wearing a traditional morning suit, was supported by his closest friend Jamie Ellis as best man and seven groomsmen.
The church, packed with 112 guests, was decorated with flowers matching the bride's bouquet along the pulpit and, appropriately for farmers, milk churns at the entrance to the church. The couple chose three hymns for the service (I Vow to Thee My Country, Lord of All Hopefulness and Guide me, O Thou Great Redeemer) which were met with some of the loudest singing that St Giles' has ever experienced! The Revd Vivien conducted a beautiful ceremony which was linked closely to the couple and their connections with agriculture. The bride and groom's mothers, Lesa Marshall and Amanda Godman-Dorington, were the witnesses of the signing of the marriage document, while Vivaldi's Spring was played on the organ.
At the end of the ceremony, the newlyweds left the church to Mendelssohn's Wedding March and the sound of St Giles' church bells, for their reception at Haylands Farm, where they had reception drinks in the garden, followed by a wedding breakfast in Haylands Barn, where their families had prepared the
floral displays. They had a wonderful celebration and the dance floor was filled all night!
They spent a few days in Devon after the wedding and are hoping to go on a honeymoon overseas in later this year or early next year – when Hamish is expecting haymaking to be finished for the year!
Hamish's brother Archie is due to marry Amber Woollven at St Giles on 20 August.
Purdy and Craig, 27 May 2022
Two lynchpins of Graffham pubs, Purdy Walker and Craig Baldwin, were finally married at St Giles Church on Friday 27 May – after two delays because of pandemic restrictions and a nine-year engagement. They first met around a decade ago, when both worked at The Foresters Arms, where Craig returned recently as head chef before moving to the same role at Pulborough's British Garden Centre, while Purdy is housekeeper at The White Horse, where they hosted their wedding reception.
The date for their big day was chosen because 27 is Purdy's lucky number – and it turned up trumps with the sun beaming all day. St Giles was the only choice for their wedding, as Purdy, whose family home is Eastwood Stud Farm, East Lavington, explained: "I always wanted to be married in the church I was christened in and attended whilst at Graffham Primary School."
The bride wore an off-the-shoulder dress with pleated bodice and full A-line skirt and train with button detail down the centre back, in ivory satin. She carried a bouquet of white peonies, white roses and thistles made for her by her friend Francesca Sharpe. Attending her were her and Craig's twin daughters, Lydia and Michaela, wearing ivory dresses to match their Mum, but, in their cases, with a pretty blue print. She was walked down the aisle by her father Russell Walker, to join Craig, sporting a smart navy three-piece suit, waiting for her with his best man and brother Stevan Baldwin. To match the bride's bouquet, the church was decorated by Purdy's sister Lara Walker with peonies, roses, thistles and stocks arranged in suitably rural milk churns.
During the service, conducted by the Revd Vivien, Lara and other sister Kirsty Booker read, respectively, poem Maybe and 1 Coronthians 13's famous verses on love. For hymns, they chose Jerusalem, which is included at all the family's church services, along with One More Step Along The World I Go and Lord of the Dance, accompanied by organist Martin Ridley. Purdy's grandmother insisted that they newlyweds should leave the church to a peal of St Giles' bells – but she sadly she is no longer with us to have witnessed it all herself.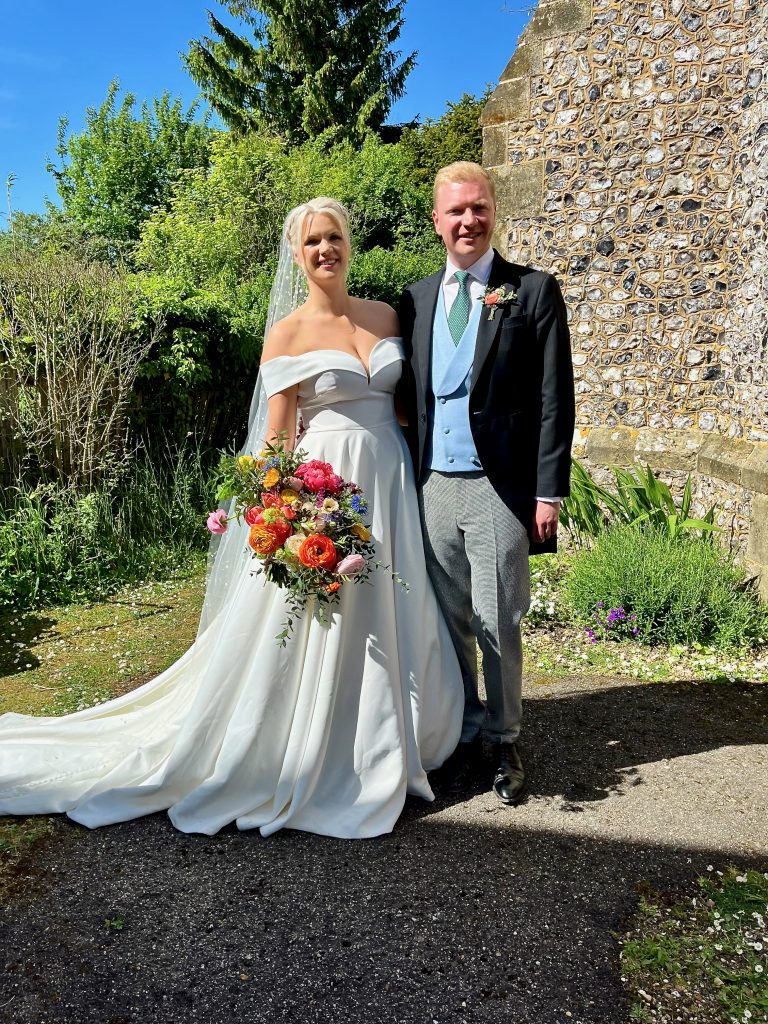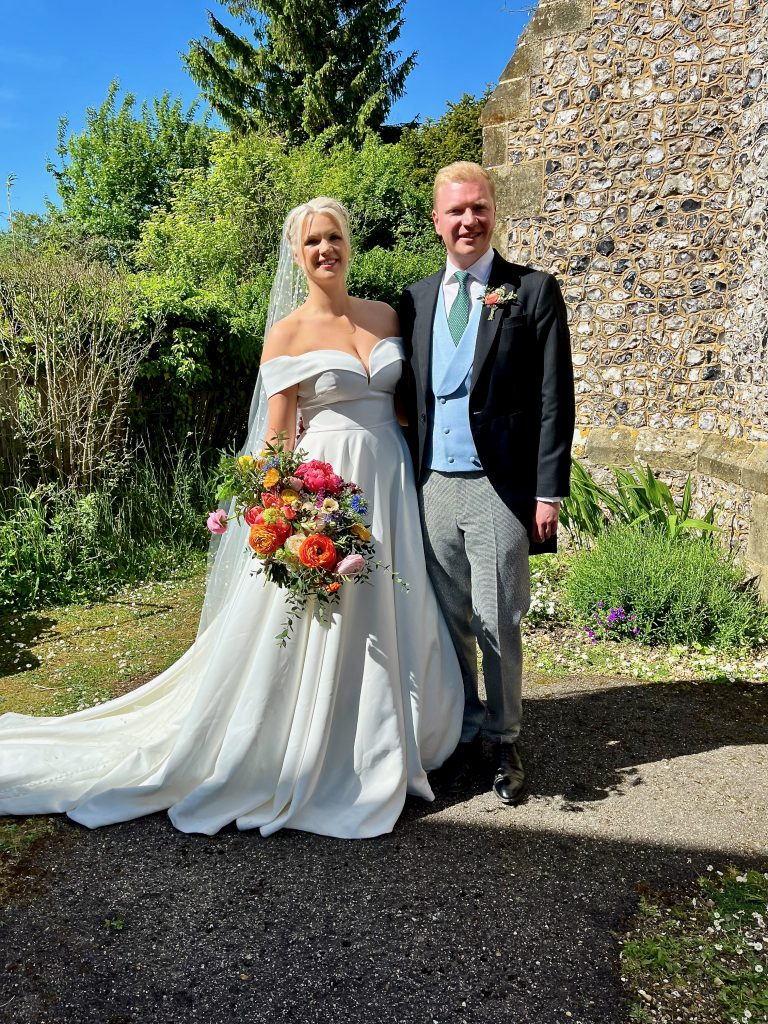 Holly and Lewis, 14 May 2022
Holly Hardy and Lewis Watkins had all but abandoned their dream of a countryside church wedding until they stumbled upon Graffham's St Giles. With demand on venues so high after lockdown when they became engaged six months ago – four years after meeting on a blind date arranged by her sister – they had booked the only slot available for a reception at nearby Cowdray House. But the residency requirements for a marriage in a church meant exchanging vows in a traditional religious ceremony locally was out of the question. So when they met the Revd Vivien she suggested instead that they have a civil registration first – followed by a blessing of their wedding afterwards at St Giles. Which is exactly what they did!
After formalising their union at Marylebone Town Hall, a few weeks in advance, the London residents had their marriage blessed at St Giles on Saturday 14 May, in what is known as 'a service of prayer and dedication after a civil marriage'.
Interiors brand owner Holly wore a traditional white dress and carried a bouquet of spring flowers as she and her husband, management consultant Lewis, entered the church together ahead of the service, to Elgar's Salut d'Amour, played by St Giles' organist Brian Lanaghan. They were accompanying by two flower girls in white dresses with blue sashes, overseen by chief bridesmaid Olivia Samuels, Holly's best friend. Lewis' brother Scott was best man. As part of the service, the Revd Vivien read a prayer written by Holly's granny who was sadly too unwell to attend. Holly's father drove her to the church, and Lewis' Dad chauffeured them away on to the reception, to the pealing bells of St Giles' tower. Holly said: "It was by pure chance that we stumbled on Graffham and how lucky we were – Vivien has been so accommodating and kind to us, she made it possible still to have the church service although for a blessing rather than a wedding."