PRIEST IN CHARGE  Revd Vivien Turner   reverendvivien@gmail.com   01798 867199
'OFFICE' CONTACT EMAIL: hello@stgilesgraffham.org
Reverend Vivien moved from the North Downs to the South Downs in July 2018 with husband Phillip to serve this unique Sussex village community, expressing God's love in worship and service together here. Please contact her with enquiries about parish life and worship, including requests for baptism, wedding or funeral services.  Do call her with any pastoral concern, she will be glad to hear from you.
Revd Vivien's days off are Monday and Friday. Please leave a message if you have a pressing concern however and she will respond when she can. 
CHURCHWARDEN AND MUSIC COORDINATOR  Ginny Barrett   Contact: hello@stgilesgraffham.org
Restorative dentist and mother of four, Ginny Barrett was born and brought up in Graffham and is closely involved in the community, organizing festivals, fetes and other local happenings. Ginny epitomises the saying 'If you want something done, ask a busy person!'
ADMINISTRATOR & DEANERY SYNOD & FINANCE TEAM                                                                         
.  Diane Bellis  Contact: hello@stgilesgraffham.org  
Diane manages lots of practical things in the parish and is our finance team cashier.  She is a keen guider and is heavily involved in local Brownie Packs and Guide Companies.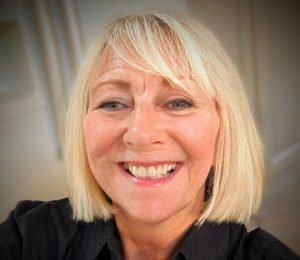 PCC & TREASURER Yvonne Churchward  Contact: graffhampcctreasurer@gmail.com
Yvonne has lived in Graffham since 2002 and joined the PCC as Treasurer in 2020.  Following many years in banking, she worked with a local charitable trust as administrator and brings considerable accounting experience to our church.  Yvonne is a keen gardener and enjoys walking and music.
PCC SECRETARY  Michael Blunt  Contact: hello@stgilesgraffham.org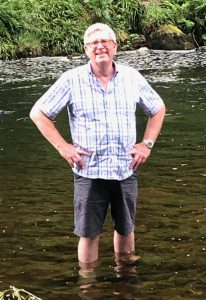 Michael and Sally moved to Graffham from just north of the West Sussex border in 2013 with their assorted menagerie.  Since retiring slightly early from a globe-trotting career spanning the airline industry and journalism, he has taken on the editorship of Graffham Parish News, chaired Graffham Empire Movies and become an honorary steward at Twickenham.
PCC & DEANERY SYNOD & PACT   Ann Brown   Contact: hello@stgilesgraffham.org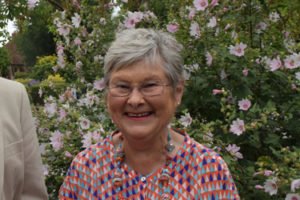 Ann has many years of being a Churchwarden in Essex behind her, retiring to Graffham where she is continuing PCC involvement and taking on the roles of Deanery Synod and PACT Representative. Ann and her husband Hugh enjoy walking, campervanning and attending horse events, as well of course as visiting their children and grandchildren.
PCC & FABRIC GROUP   Stuart Lewis   Contact: hello@stgilesgraffham.org
Stuart and Bridget moved to Graffham in 2018 to be nearer their three children and nine grandchildren. Stuart is a Freeman of the City of London where he worked as a stockbroker and company director.  He has been actively involved in the not-for-profit sector for many years and was appointed a Deputy Lieutenant for Hertfordshire in 2004.
PCC MEMBER   Fiona Mackie   Contact: hello@stgilesgraffham.org
Fiona and her husband Chris moved to Graffham in January 2020 from Edinburgh, where they had lived for more than 50 years, during which time they brought up their three children.  She worked as Admissions Secretary at Loretto School as well as Certification Officer for the Biodynamic Agricultural Association, while also running her own secretarial business.
PCC MEMBER and TOWER CAPTAIN   Howard Pescott   Contact: hello@stgilesgraffham.org
Howard moved to Graffham with his husband John in 2016.  They have collectively worked 65 years in the NHS. They are both learning bell ringing, and Howard is our Tower Captain.  When not ringing or working you can spot them walking in the area, and further afield for their holidays. They are both very grateful for living in Graffham – their Narnia.
PCC MEMBER  Marie Bracey
PCC MEMBER  Barbara Edge
PCC MEMBER  Beanie Bradley
PCC MEMBER: Nettie Lanaghan
PCC MEMBER and SAFEGUARDING OFFICER  Sonya Gillespie   Contact: safeguardinggraffham@gmail.com or 01798 867708               
If facing an URGENT situation and someone is in imminent danger call 999.  Do not delay.   See also our Safeguarding page by clicking here 
FINANCE TEAM: PARISH GIVING OFFICER  Carole Sargent    Contact: hello@stgilesgraffham.org
Carole is supporting the Parish Giving Scheme which enables people's regular financial contribution to the parish to be efficiently and wisely managed. She'd be pleased to explain this scheme to anyone considering how best to support our church financially.  It enables you to donate by phone or by filling in a form.  See our Giving pages for more detail.
EDITING TEAM OF GRAFFHAM PARISH NEWS Michael Blunt, Bill Barrett, Philippa Sanders  Contact: editor.graffhamparishnews@gmail.com
The Graffham Parish News is distributed free of charge to the village every month and can also be found on the homepage of this website.  The editing team are pleased to receive articles of local interest for inclusion.  Contact Philippa to advertise in the magazine.  She will be pleased to help.
FINANCE TEAM: BOOKKEEPER Phillip Turner  Contact: hello@stgilesgraffham.org
ALL SAINTS TRUSTEES  Clive Rowntree, Mary Coakes, Tim Crow
TOWER CAPTAIN Howard Pescott Contact: hello@stgilesgraffham.org
Also see info in the drop down menu under Community.  
ELECTORAL ROLL OFFICER John Sutton  Contact: hello@stgilesgraffham.org